Welcome to The Capitalist Game
The Capitalist Game is a web based economic simulation, there is no software to download to play the game.
Each player will run a company, buying goods from the Government or other companies then either selling these goods to consumers, or using them to manufacture other products. Each player is trying to build the largest, most efficient business empire. See if you have what it takes to be a successful Capitalist.

Factory and Production Line List
Starting with a few million dollars provided by private investors you will have the opportunitly to grow your company by manufacturing and selling products. As you earn money from these activities you can reinvest the profits in your business to purchase licenses to manufacture and sell higher value, more profitable products.
Production Line for Aspirin.
Detailed financial information is provided, including an Income Statement and Balance Sheet for your company as well as an Income Statement for each production line and store sales unit. You can quickly and easily track which activities are the most profitible and adjust or retool your company to generate maximum profits.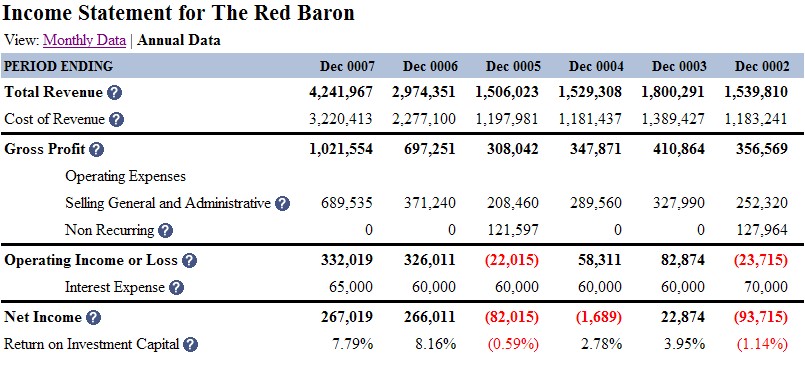 Annual Income Statement for Company The Red Baron
Sound interesting? Come join us, it's free.
Registration requires that you confirm a valid email address so that I can contact you should the need arise. Your email will not be sold or given to other parties
Need Help